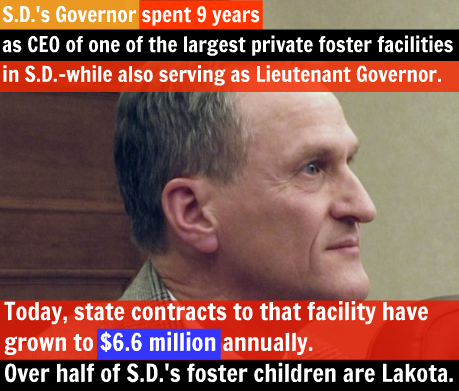 Every year in South Dakota the state department of social services removes over 740 American Indian children from their homes, tearing them away from their families, their tribes and their traditions. Since 2006 the Lakota People's Law Project has been waging a comprehensive campaign to stop the state's actions and win the return of these children.
Where will it end?
Sioux Falls mayor Mike Huether is emerging as a powerhouse for the South Dakota Democratic Party:
Huether's campaign reported raising more than $51,000 during the campaign finance cycle that ended Dec. 31. More than half of that amount came from individuals who donated $1,000 — the maximum one person can donate in a calendar year. With a new calendar year starting Jan. 1, the same donors can ante up again before the April 8 election. Huether's only declared opponent in the race so far, city councilor Greg Jamison, lagged the mayor with $18,650 in reported contributions. [Jonathan Ellis, Mike Huether owns big money edge, Sioux Falls Argus Leader]
Yesterday's 100 Eyes discussion was dominated by the mayoral race including talk of the generous donations Huether's campaign enjoyed from former Representative Stephanie Herseth Sandlin and her husband, Max. SHS still holds a formidable war chest. Editor Patrick Lalley reminded viewers that
she has a really good life
right now.
Oh,
the hypocritheocrisy
! South Dakota's earth hater former governor, Mike Rounds, is being greased from out of state:
Of the contributions analyzed, Rounds has raised the most money outside South Dakota. The 2014 two-year filings reveal that Rounds raised $1,316,452 in identifiable money. Approximately $851,000, or 65 percent, came from outside South Dakota. Conversely, $465,000, or 35 percent, of contributions to Rounds came from South Dakotans. The Rounds campaign has received contributions from individuals and political action committees from multiple states, including Texas, Illinois, California and Virginia. Outside of South Dakota, individuals from Texas have given the largest amount of money to Rounds since he began his campaign, with $112,600. Some residents of Illinois gave the second most, with $70,150, followed by $69,600 from Minnesotans. [Joel Ebert, Pierre Capital Journal]
Sioux Falls population grows 3,500 to 162,000 in past year http://t.co/tBcY4jPcFv
— argusleader (@argusleader) January 8, 2014
Under Republican governors
Rounds and Daugaard
, South Dakota has become
an increasingly dangerous place
especially to raise children:
A recently released FBI crime report shows violent crime in South Dakota rose 96 percent between 2005 and 2012. State statistics put that figure at 44 percent. Krista Heeren-Graber, executive director of the South Dakota Network Against Family Violence and Sexual Assault, agreed that prevention can be difficult, especially with "limited" funding for prevention programs and crisis servicing. The number of meth labs and arrests also has been growing at an alarmingly high rate, authorities say. [Mark Walker, Sioux Falls Argus Leader]
Hardly surprisingly,
South Dakota is being led into the dustbin of history
by
Republicans:
The crime rate has increased in only five states since 2007, the FBI said. The situation is getting worse in New Hampshire, where the rate is up 17 points in the last five years, and South Dakota, where crime is up 20 points over the same period. [Reid Wilson, Washington Post]
Recall that Democrats in South Dakota have been run out of office for accepting
out of state campaign contributions
.