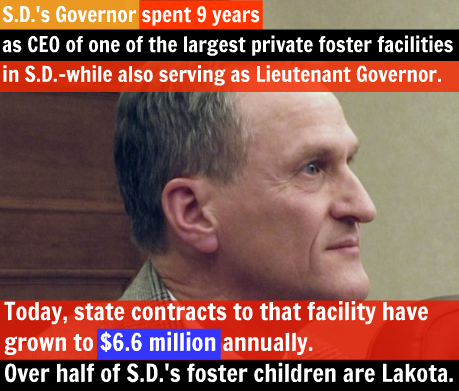 One can easily imagine that
Benda-gate
can't be the only scandal
that
looks suspicious
to an accountant.
Every year in South Dakota the state department of social services removes over 740 American Indian children from their homes, tearing them away from their families, their tribes and their traditions. Since 2006 the Lakota People's Law Project has been waging a comprehensive campaign to stop the state's actions and win the return of these children.
Where will it end?
I'm at the SOS office taking out petitions for my candidacy for governor. Sign up to help at http://t.co/Iv2R0cVmIp pic.twitter.com/eAaRhzSY2F
— Susan Wismer for SD (@susanforsd) January 28, 2014
Approps: Native Americans are 8.8% of SD's population, 3.3% of SD public university enrollment. Board of Regents asking for help to solve.
— Susan Wismer (@SusanWismer) January 24, 2014
Fun only an Approps committee mbr could love: getting to the bottom of why SD overbudgets and underspends Medicaid: where does it REALLY go?
— Susan Wismer (@SusanWismer) January 28, 2014
For the record: I called
Rep. Wismer
and asked her to run for governor long before last October. She told me that Cory Heidelberger at Madville Times is too radical. I told her that I am crazy.
It's
likely no coincidence
that
Wismer's announcement
comes as President Obama briefs the nation on the state of the union.
A legislature in session is
not just an orgy
of civic pride, religious zealotry, lobbyist parties and political aspirations:
According to Assistant U.S. Attorney for South Dakota, Kevin Koliner, Native women comprise 40 percent of sex trafficking victims in the state. Although some research links the recent oil boom to the emergence of a culture of misogyny in North Dakota, Native-women advocates maintain that the Great Plains of North and South Dakota present fertile ground for such a culture to take hold. They note, for instance, that South Dakota is considered by some men to be a sex tourism destination. "They come in the fall for pheasant hunting season and in summer for the Sturgis Bike Rally," says Susan Omanson, executive director of BeFree58 Ministries, a non-profit in Sioux Falls serving survivors of sex trafficking. Sexual violence, including prostitution and trafficking, are firmly imbedded [sic] in the culture and economy of South Dakota. Although most hunters and bikers in the area are well-behaved, there is a dark side to both those activities, according to U. S. Attorney Brendan Johnson, who says, "Wherever you have a large gathering of men, you have a strong opportunity for prostitution and sex trafficking." [Mary Annette Pember, Will Keystone XL Pipeline Pump Sexual Violence into South Dakota?]
Rich women have full reproductive freedom: South Dakota's repeated attempts to restrict access to medical care is not only mean-spirited, it's discriminatory anti-choice extremism.
HR 7 has nothing to do with taxpayers and everything to do with chipping away at a health care access. #StopHR7 pic.twitter.com/GH2el7Rf83
— PlannedParenthood SD (@ppSoDak) January 28, 2014
Wismer is the second Democrat to enter the gubernatorial race, after former state wildfire chief Joe Lowe of Rapid City.
— David Montgomery (@ArgusMontgomery) January 28, 2014
Wismer, an accountant, notes she won't be able to campaign full-time until April 15.
— David Montgomery (@ArgusMontgomery) January 28, 2014