What can you do when those tears make you blind?
A national mountain lion protection organization is outraged that South Dakota hunters shot three young mountain lions last week — one three months old and weighing just 25 pounds — and had their kills deemed legal by the state.Regional Wildlife Manager John Kanta said no fines were issued to the hunters who on Feb. 12 killed a 4-month-old female that weighed 25 pounds and a 5-month-old female weighing 32 pounds. Another hunter who shot a 4-month-old male weighing 27 pounds on Feb. 15 also was not cited. [Jennifer Naylor Gesick and Bart Pfankuch, Rapid City Journal staff]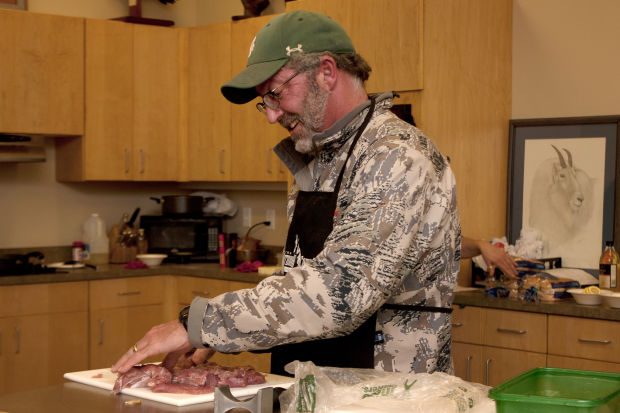 Jeff Olson, resident chef at the Outdoor Campus-West in Rapid City, prepares mountain lion for his class to taste. The mountain lion will be sliced and tenderized, then sauteed in butter, fresh lemon slices, dill and seasoning salt. [Christy Hammond, Rapid City Journal]
Apex
predators are essential to healthy bioregions
but Olson is not the only
stupid white guy in the Black Hills
eating cougar meat:
Yet "eating carnivores is mostly not a good idea," argued Luke Hunter, president of Panthera, a U.S. based wild-cat conservation group that works with National Geographic's Big Cats Initiative. Handling wild-carnivore carcasses can also be dangerous, Hunter said. Since the predators end up eating so many different animals, they accumulate parasites and diseases. In 2007, for instance, a biologist in Arizona contracted primary pneumatic plague after dissecting a cougar carcass and died shortly after.--Christine Dell'Amore, National Geographic News
Stupid state.