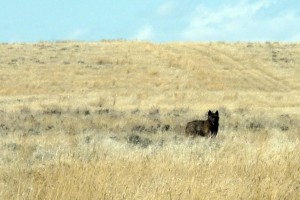 KW sez
a protected endangered wolf was killed near Custer:
Brad Merrill, a special agent for the U.S. Fish and Wildlife service in Pierre, said that he couldn't discuss specifics of the incident, which remains under investigation. Merrill said wolves are still protected in most areas, including western South Dakota. And the gray wolf is on the state list of rare, threatened or endangered species.
And:
For most of us, such an act would be unthinable [sic]. Yet, it happens. It always happens, inexplicably. A guy with a gun and an inclination toward idiocy takes aim and pulls the trigger. At something illegal. That's how two bull elk ended up dead in Wind Cave National Park earlier this week.
South Dakota
is home to more idiots than its neighbors.
Istáwicayazan Wi
– Moon of Sore Eyes (Snow Blindness)