From my inbox:
Larry --
Last week the governor requested – for a second time – to limit the Medicaid expansion to only cover less than half of those eligible in South Dakota. His request was again denied by the Federal government, just as it was the first time he submitted it a year ago.
South Dakotans, like Ronald Fuchs of Mitchell, can't wait for health insurance while the governor plays political games. Read more about Robert's story here.
While the governor sits back and does little to help South Dakotans without health care, I'm working hard in the legislature, fighting for full Medicaid expansion to cover more than 48,000 South Dakotans. Show your support by making a contribution of $250, $100, or $50 today.
I understand that South Dakotans don't have time to wait for coverage. According to a New England Journal of Medicine study, 94 South Dakotans will die this year while waiting for the governor to expand Medicaid. Give $94 right now to stand up for South Dakotans in need of health care.
Show your support for the 48,000 South Dakotans without access to affordable health care. As governor I will put South Dakota's needs ahead of politics.
Sincerely,
Susan
P.S. Your support today will send a message to the governor about the priorities of every day South Dakotans.
Darn it's entertaining when a Democrat doesn't follow the script.
— Susan Wismer (@SusanWismer) March 13, 2014
Amend ac $53,190 to help protect consumers...Romkema moved to table; Passes on party lines. There's a theme here..Dem's are for people.
— Kathy Tyler (@KathyTyler11) March 14, 2014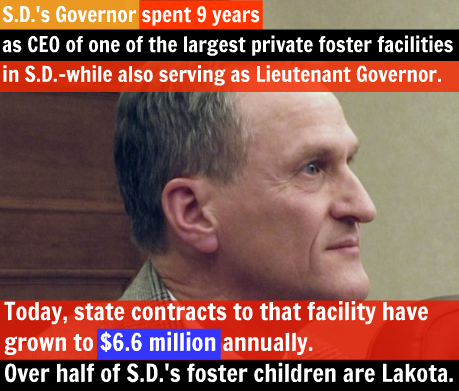 Follow the money.
Gov. Dennis Daugaard has received thousands of dollars in campaign contributions from affiliates of companies that have been recipients of grants overseen by the governor's office, an investigation by the Capital Journal has found. An analysis of Daugaard's campaign contributions and corporate filings found on the Secretary of State's website reveals several officers of companies that received Future Fund awards also gave the governor money. [Joel Ebert, Daugaard receives donations from Future Fund recipients]
Where will it end?
Every year in South Dakota the state department of social services removes over 740 American Indian children from their homes, tearing them away from their families, their tribes and their traditions. Since 2006 the Lakota People's Law Project has been waging a comprehensive campaign to stop the state's actions and win the return of these children.
South Dakota's earth hater governor
is slipping Ft. Pierre some Community Development Block Grant dough:
Gov. Dennis Daugaard already has signed the two offers of CDBG assistance to the city of Fort Pierre on April 10. The city council also set a public hearing date of May 6 for Ordinance No. 962, amending some passages of city ordinance having to do with conditional uses and conditional use permits; and it set May 20 as the date for a public hearing on a petition by Dakota Mill & Grain Inc. to vacate a 20-foot alley that isn't used. No other property owners are affected.--staff, Pierre Capital Journal.
You have to admit
Hani Shafai
has balls. Of course he was invited to Governor
Daugaard's pheasant killing contest
.
Shafai
, a Rapid City Muslim, criticized Walid Shoebat, a
converted christian
, after
Shafai
learned of a speech at a Rapid City terrorism conference:
I don't think it is right for anyone in any organization to generalize about these types of issues," Shafai said. "Every group of society, regardless of its religious or cultural backgrounds, has good and bad." [David Montgomery, Al-Qaida not a fringe opinion among Muslims, speaker claims, Rapid City Journal]
Recall the slush fund called
the Governors Club
:
Shafai appears with Doyle Estes
, who donated polluted swamp land for
a soccer complex
. Also appearing on that list is Roger
Tellinghuisen, now managing cash resources for the complex
. He enjoyed a $75,000 legal services contract after being attorney general for the state.
DAUGAARD, DENNIS M | Follow The Money http://t.co/wdTY8jY5ic #sdgov #sdsen
— interested party (@larry_kurtz) November 18, 2013
@HydeBlizzardbox @lblumenstiel @Abq01 @larry_kurtz @jacobwhiteAR @CoralKittyCat @annsanchez2x @iMZahidIqbal Welcome to the battle for 2014!
— Blue Congress (@Blue_Congress) March 13, 2014