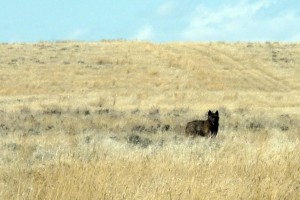 Gregory Johnson of
Lead
is an ecoterrorist:
According to the complaint, Johnson shot the lion illegally from the road. Additionally, he was cited for exceeding the maximum rounds of cartridges in a firearm while big game hunting. In other words he was using an illegal rifle with a 30-round clip. [Alexandra Montgomery, KOTA teevee]
Wolves
are considered a
federal endangered species
in South Dakota.
Dave Whitaker was temporarily stunned when he saw what looked like a black wolf. According to published reports, Whitaker is not the only one who believes he may have seen a wolf recently in the Black Hills. At least three Spearfish residents thought they saw wolves near their homes this week and in December, according to the Associated Press. [Meredith Colias, Rapid City Journal]
Buy 'em
books
and
buy 'em books
then
they wad 'em up
and
use 'em for toilet paper
.
On Monday Spearfish resident Pete McNamee called the Spearfish Police Department to report a wolf sighting near Windmill Drive shortly after 11 a.m. [Mark Watson, Black Hills Pioneer]
From
the RCJ
:
The gray wolf found dead Monday morning near Pine Ridge made a 400-mile journey from Yellowstone National Park to southwest South Dakota in less than two months, a U.S. Fish and Wildlife Service wolf specialist said Tuesday. Mike Jimenez of Jackson, Wyo., said information received from the radio-transmitter collar on the wolf identified it as a 3- to 4-year-old male that was part of a wolf pack in the southeast part of Yellowstone. --Kevin Woster, Rapid City Journal
South Dakota Game, Fish, and Plunder
has been systematically
exterminating the cougar population
that had been
discouraging wolves
from migrating into the state.