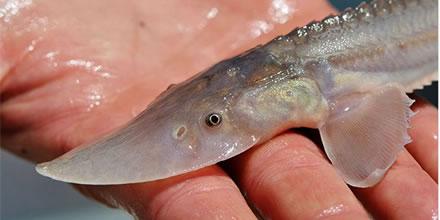 Christopher Guy, assistant unit leader with the US Geological Survey Montana Cooperative Fishery Unit and professor at Montana State University, joined Dakota Midday host Karl Gerhke on
Bill Janklow's idea of public radio
to talk about the importance of recent findings on the endangered pallid sturgeon in the upper Missouri River basin.
#FedBizOpps Y--Switchyard Upgrades, Fort Randall Dam, SD: Y -- Construction of structures and facilities http://t.co/lgozVuH3Nz
— USACE Omaha District (@OmahaUSACE) January 29, 2015
Update, 1630 MST, 28 January:
According to American Rivers, an advocacy group that tracks U.S. dam removals, 72 dams in 19 states were torn down in 2014, a record. That is roughly double the annual number from 10 years ago. Some 1,185 dams have been removed since 1912, according to the group. The fleet of U.S. dams, however, is still enormous. The Army Corps of Engineers counts at least 87,000 dams in its database. Removing dams produces its own benefits. Public safety is enhanced by reducing the risk of a dam failure, and moribund freshwater fisheries are rejuvenated when a segmented river is reconnected. [Circle of Blue]
Below the Missouri River dams
pallid
sturgeon are showing signs of recovery
but above
?
Surprise!
Pallid sturgeon come from a genetic line that has lived on this planet for tens of millions of years; yet it has been decades since anyone has documented any of the enormous fish successfully producing young that survive to adulthood in the upper Missouri River basin. Now, fisheries scientists with the U.S. Geological Survey, Montana State University and the U.S. Fish and Wildlife Service have shown why, detailing for the first time the biological mechanism that has caused the long decline of pallid sturgeon in the Missouri River and led to its being placed on the endangered species list 25 years ago. In a paper published this week in the journal Fisheries, the scientists show that oxygen-depleted dead zones between dams in the upper Missouri River are directly linked with the failure of endangered pallid sturgeon hatched embryos to survive to adulthood. Given what the new research shows about how no oxygen is available to hatched pallid sturgeon embryos, the authors of the paper propose that officials will need to consider innovative approaches to managing Missouri River reservoirs for pallid sturgeon conservation to have a chance. [press release, US Geological Survey]
Another Montana
researcher is probing
the relationship of whitebark pine with the slippery jack mushroom. Confirming
my own long-held suspicion
she has learned that
antimicrobials are disrupting fungal communities
throughout the Mountain West.
President Obama
: decertify
the dinosaurs
that are the main stem dams, tear the earth fuckers down and rewild the West.
Keystone XL, meet the grouse wars http://t.co/2ifKgDxmsy
— HuffPost Green (@HuffPostGreen) January 29, 2015
What's the oldest dam removed in 2014? Hint: It's the first dam removed in the first state. http://t.co/lciZa3yWHz #damfacts
— American Rivers (@americanrivers) January 27, 2015
RT @visitmontana: What a sight! MRT @LukeStrommen The Mighty Missouri below Fort Peck. #montanamoment pic.twitter.com/jkxOShv7JO
— USACE Omaha District (@OmahaUSACE) January 16, 2015
A warning that ice conditions are changing quickly on all reservoirs in North Dakota and South Dakota. http://t.co/6XwpFZzFLt
— KELO News (@keloland) January 27, 2015