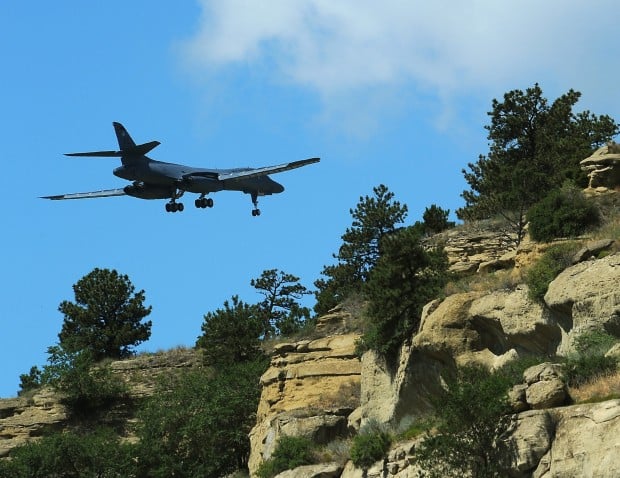 Tom Binford is Logan International Airport's director of aviation and transit. He tells the Billings Gazette that local residents are unnerved by
B-1 bombers from Ellsworth Air Force Base
rattling the community's windows.
The pilots practice the maneuvers at the Billings airport because the terrain and winds differ from Ellsworth, giving pilots a chance to practice in diverse environments. "You notice it so much in the area, because they're so loud," he said[,] "but it does create some noise, no doubt about it." Military planes have different restrictions on engine noise. [Chris Cioffi, Ellsworth B1 bombers practice approaches at Billings Airport]
In a letter to the Secretary of the Air Force and to the Air Force Chief of Staff, Montana Senators Jon Tester and John Walsh have voiced their opposition to the proposed expansion of the
Powder River Training Complex
in southeastern Montana. Citing the potential loss of 95 Montana jobs, concerns over the safety of Montana citizens from
aircraft based at South Dakota's Ellsworth AFB
and outcry from residents in the area, the Senators wrote that they are unwilling to include the Little Bighorn National Battlefield within PRTC.
"I would never wish on anybody the noise impact that comes from a B-1 bomber flying over at mach one," says Marvin Kammerer, whose ranch is adjacent to the base. "Thirty-six people have died in plane crashes on this ranch over the years," he adds. Residents worry that the airspace would become too dangerous for civilian planes, turbulence would disrupt wind farms, flares would start wildfires, chaff would sicken livestock, and sonic booms would interrupt the peace and quiet. [Emilene Ostlind, Who's terrorizing who? High Country News]